Basics
DOT GmbH has established a fully-equipped modern analytical laboratory for chemical analysis and microbiological-hygienic testing. Our highly qualified laboratory team consists of engineers, laboratory technicians and other skilled professionals. We are able to provide a wide range of testing services for stakeholders in medical and scientific institutions by combining professional expertise with technical capabilities.
We work according to GLP conditions and can draw on many years of experience as a DOT GmbH laboratory. We also offer specific support for optimum product development and successful market introduction.
Our analytical laboratory is certified according to DIN EN ISO / IEC: 2005-2008 and has been integrated into the quality management system of DOT GmbH that is certified in line with ISO 13485.
Accreditation certificate - PDF: 600 KB
Advantages for our customers
Many years of experience in the field of laboratory analysis for own medical Devices
Modern technical equipment (eg spectrophotometer, HPLC)
Timely and cost-effective implementation and documentation of the tests
Vital synergies through collaboration with the R & D sector of DOT GmbH
Availability of latest research findings due to partnerships with university collaborative projects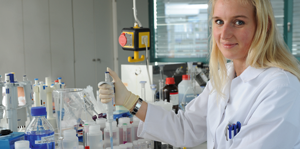 Range of Laboratory Analysis
Microbiological-hygienic Testing:
Determination of the population of microorganisms on a product (Bio burden determination)
Test for bacterial end toxins (LAL test)
Evaluation of the antimicrobial effects
Examination of the microorganism content (surface microorganism content)
Determination of microorganism content in the air
Chemical-analytic Examination:
Photometric determination of soluble silicates
Photometric determination of copper
Chromatographic determination of paclitaxel in ethanol solutions