Anodizing of dental components
Anodizing Type II
Technology

The DOTIZE® anodizing process replaces the thin natural oxide film present at the implant surface by a thick oxide layer. Micropores and cracks in the base material are reduced by the anodisation. The DOTIZE® procedure conforms to the standard AMS 2488 (Aerospace Material Specification).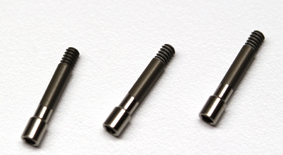 Range of Application

Dental components (abutment screws, fixing screws)
Properties
Color: dark gray to anthracite
Coating thickness: 1–2 µm
Roughness Rz: ≤ 3 µm
Adhesion strength: ≥ 22 MPa
Hardness: increase of ~25 %
Hardened titanium surface
Highly biocompatible
Reduced risk of cold welding between components made from titanium
Advantages of the Procedure
Increased resistance to wear compared with untreated titanium alloys
Higher pre-loading of threaded connections is possible
Increase of up to 15 % in the fatigue strength compared with untreated base material
No changes in the dimensions of the parts
Anodizing Type III
Technology

The anodization type III (coloring) is performed in diluted acid. The titanium oxide film that is produced works as an optical interference filter. By varying the thickness of the coating all the colors of the rainbow can be produced. The standard colors produced are red, blue, yellow and green. Customers can also select from a larger range of colors.
Range of Application

Type III anodizing is qualified for implant components (screws, abutments, cover scews) which are provided in different sizes (e. g. different diameters).
Properties
Colors according to the color scheme
Coating thickness: 20–200 nm (depending on color)
Roughness Ra: ≤ 0.05 µm (on polished surface)
Adhesion strength: ≥ 22 MPa
Advantages of the Procedure
Easier identification of implants
Cosmetically appealing
Contact us - we are pleased to advise you!