High-Tech-Surfaces in the Service of Health
DOT is one of the leading companies in the field of medical
coating technology
for implants and instruments and also their
cleanroom packaging
. The development and manufacture of "
regenerative medicine
" products for dental and orthopaedic applications are further fields of activity where DOT employees make their committed contribution to a better quality of life.
Implant Coatings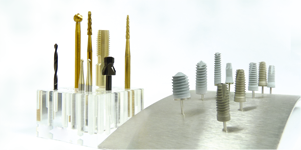 Our range of services comprises a broad series of technologies for surface refine enhancements of medical implants and instruments. These includes conventional coating techniques like PVD coating or TPS coating as well as innovative solutions such as our electrochemical calcium phosphate coating or techniques for acid etching of implants. Read more>>

Services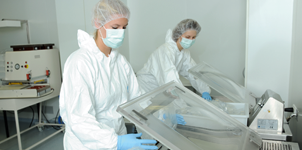 We offer our customers complementary services in addition to surface enhancement. These include laser engraving, packing in clean rooms, printing and applying labels as well as sterilisation as a sub-contractor. DOT can offer three Class 8 cleanrooms. The packing concepts are developed together with the customer. Furthermore, we have standardised packaging solutions available for dental and orthopaedic implants. Read more>>

Biomaterials
Regenerative products for application in orthopaedic and dental surgery are developed, manufactured and distributed at DOT. Product range includes the synthetic bone graft substitutes BONITmatrix® and OSSA NOVA which are available as granulates and paste. For completion of the products, a bovine collagen membrane named Hypro-Sorb® F is also offered. Read more>>

Company
Fundamental know-how of both science and the practical application there of provided the solid base for DOT to flourish after its founding in 1992.
Read more>>